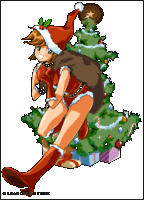 WE ARE DEDICATED TO ANIME FANS JUST LIKE YOU!
It's December and Christmas is almost here, but don't worry, we can help you get those perfect gifts for that aspiring Otaku! We're stocking up & will be working overtime, so you can count on us as your Anime gift source!
Make us your Holiday Season Anime Source!
New! - Wolf Children
Experience the latest masterpiece from the internationally-acclaimed, award-winning director of Summer Wars!

- Click To Order! -
-Featured - Accel World (Includes Free Mini Art-Book!)
-Necomimi Ears

The year is 2046. Portable devices known as Neurolinkers have enabled mankind to oversee their daily life within virtual reality networks.


Haruyuki Arita is one such student who finds himself on the lowest social rungs of his school. That all changes when Kuroyukihime, the most popular girl in school, approaches Haruyuki with a cryptic proposal: to "accelerate" further, and beyond...

Purchase includes a FREE Mini Art Book - Click to Order!


The ultimate cosplay item, your state of mind controls the movement of your ears!

X

Anime Music
-Featured - Girls und Panzer
-Featured - Sword Art Online (S.A.O)

You may have heard of kung fu, but the girls at Oarai Academy practice gun-fu - really, really BIG gun-fu, in fact. It's mad, it's metal and mayhem is guaranteed! It's GIRLS UND PANZER!!

- Click To Order! -

In the year 2022, next-generation game Sword Art Online is the world's first true VRMMORPG. This game is inescapable, and 'Game Over' is equivalent to death in the real world."

- Click To Order! -

~ More Recent DVD Arrivals - For the Whole List See Store Updates! ~

-Recent Best Sellers!
-Top Pre-Orders - Coming Soon!
AnoHana: Complete Collection
Yuruyuri: Happy Go Lily Season 2
HSOTD: Drifters of the Dead OVA
Jormungand Season 1 Collection
Campione! Complete Collection
OniAi Compete Collection
Maken-ki! Complete Collection
Say, "I Love You" Complete
Good Luck Girl! Complete
Pet Girl of Sakurasou Collection
NAKAIMO My Little Sister Among Them!
Wagnaria!! (Working!!) Season 2
Queen's Blade Rebellion Complete
Magi: The Labyrinth of Magic
Manga - A Centaur's Life
-Manga - Vinland Saga


Himeno is a sweet, shy girl, who, like many teens her age, struggles with the trials and tribulations of attending high school.The difference is she's (OMG!) a centaur!.

- Click to Order -


Raised by the Vikings who murdered his family, Thorfinn became a terrifying warrior, forever seeking to kill the band's leader, Askeladd, and avenge his father....

- Click to Order -

~ More Recent Manga Arrivals - For the Whole List See Store Updates! ~

New - Yagyu Jubei 1:8
-New - Katsuragi 1:8

Imported from Japan!

Yagyu Jubei, this fantastic figure is the first comer of Hykka Ryoran figure series restarted. Highest quality, gorgeous and elaborated modelling, new accessories designed by Niθ..
- Click to Order -

Imported from Japan!

From Griffon Enterprises! This recreation of the budding ninja from the bestselling video game measures just over 4" tall.

- Click to Order -

~ More Recent Figure Arrivals - For the Whole List See Store Updates! ~

Featured - Haganai: Yozora & Sena
-Plush Dolls & Toys

The two heroines that never get along are rejoining the Twin Pack series! Featuring a short haired

Yozora Mikaduki in her new outfit and Sena Kashiwazaki with a ponytail! - Click to Order -

No Lonely Nights!
There may not be anything better than enjoying an evening with your favorite soft Anime plush toy!

Priced From: $5.98 & Up - Click For More! -

-Wall Scrolls & Posters

Show Your M.O.E!
Reveal your inner Otaku by decorating your room or dorm with your favorite Anime characters!

Cool Wall Scrolls! - Click For More! -
-Anime Apparel

Wear It Baby!
The only thing better than watching Anime is wearing your favorite series for all your friends to see!

Priced From: $12.98 & Up - Click For More! -
~ Anime Corner Stuff ~

NEW YEAR FIGURE SALE - SAVE 20-70% ON OVER 200 ANIME FIGURINES!


We're offering our best new years deal ever on over 200 in stock Anime figurines from RACS!
We've discounted almost our entire selection of in stock FIGURINES from last year by up to 70% off the regular price, and you can use our Super Saver or flat rate FedEx Ground shipping options to save even more! But don't wait, at these prices our selection won't last long - so grab what you want before it's too late - or before Robert changes his mind!


All figure sale items are strictly first come, first served. Be sure to place your order soon!
TRADE IN YOUR STUFF:
OUT WITH THE OLD - IN WITH THE NEW!
Did you know that you can trade in your previously viewed DVD's, CD's, Manga, and Video Games for store credit?
Trading in your excellent condition previously owned stuff for credit is now very easy, and we've even expanded the program for some non-Anime items too! Just click on this link to see the trade in values of your used stuff, then pack-up your items and send them to us - there is no need to contact us first or obtain an authorization number. Once they arrive and are inspected, we'll e-mail you with a special credit code you can spend on our store.
It's that easy! So why just let your stuff collect dust? Trade it in and get something you really want!
DON'T MISS ALL THE ACTION - SUBSCRIBE TO ROBERT's e-NEWSLETTER!
Every Friday afternoon we send out our comprehensive e-newsletter to the entire Anime Corner family outlining all the latest arrivals, newest offers, and (of course) Robert's musings on what's going on in the Anime world. Best yet, it's completely free (and if you "can't handle the truth", you can cancel at any time). So what are you waiting for? Over 44,000 other otaku can't be wrong!

Join or Update Your RACS Newsletter Subscription
Subscribing will only take a minute and will ensure you will be privy to all our latest arrivals and exclusive offers. So sign up and become part of the Anime Corner family - Noemi welcomes you!


About The Anime Corner Store More About Us....

At the Anime Corner Store you'll find all things Anime, including all North American released (and licensed) Anime DVD's, Manga, Soundtracks, Toys, Apparel, Books, Cels, and much more! All your favorite Anime DVD's, and CD's are priced at an everyday 20-40% discount off retail, and you'll find even better prices on bundles & boxed sets. With great everyday prices + excellent selection on Manga and lots of other Anime items, ultra fast shipping on all domestic orders, and convenient online secure ordering you can make the Anime Corner Store your source for all of your anime needs!
We've been online since 1997...by fans for fans...
...we really are the original Anime Superstore online!
And, of course, you'll always be dealing with my team & I (I'm the 'Robert' in Robert's Anime Corner), not some huge mindless company who thinks of you as an order number and has never even heard the word 'Otaku'. Enjoy your shopping experience, and if you have any questions, just let us know!
This is your Anime store, and we are here to serve you!